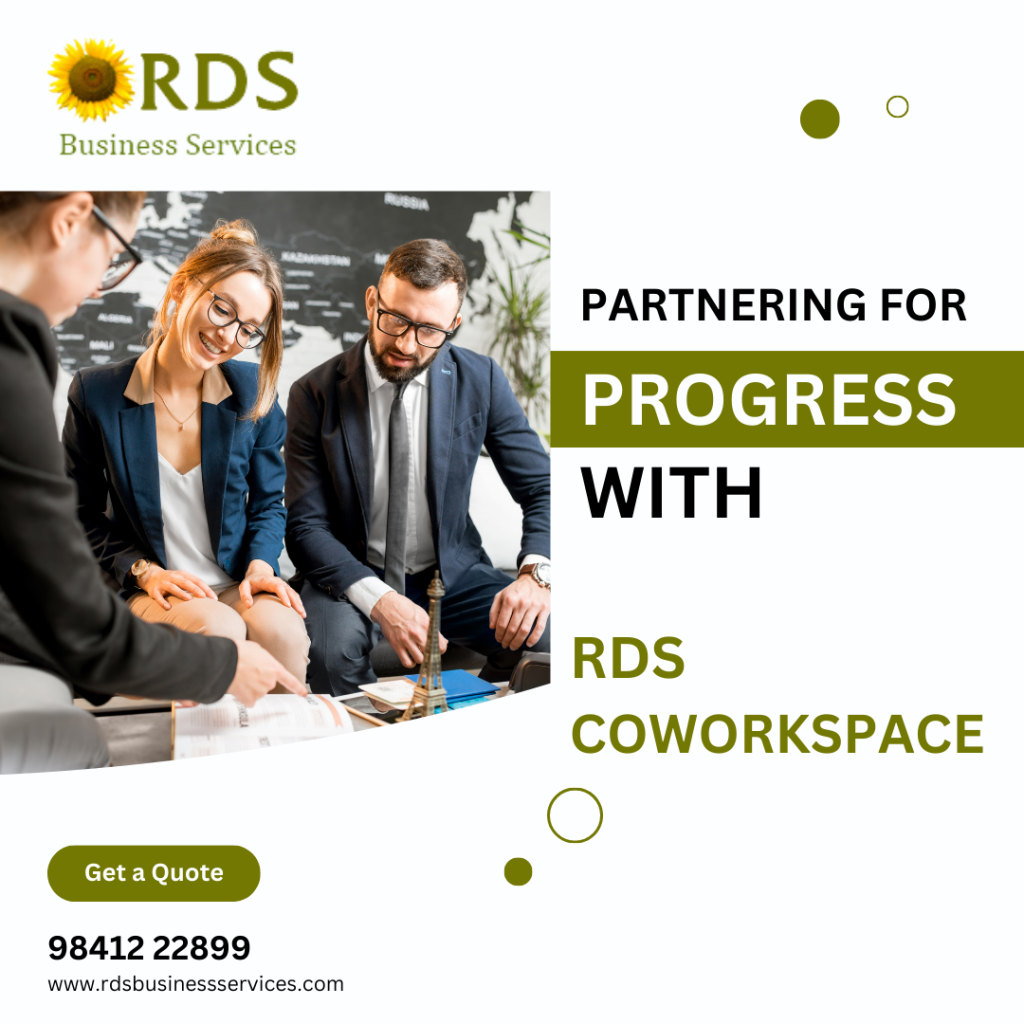 Table of Contents
In an era where remote work has become more than just a trend but a way of life, finding the right best coworking space in Chennai or workspace in Chennai can be the key to unlocking your productivity and professional growth. That's where RDS Business Services steps in to provide you with the ideal coworking office space in Chennai. 
The Remote Work Revolution
The world of work has transformed dramatically in recent years. Traditional office setups are no longer the norm, and employees are increasingly embracing remote work as a way to maintain work-life balance, save time on commuting, and enhance productivity. This shift has been accelerated by advances in technology and the global pandemic that prompted organizations to adopt remote work policies.
In Chennai, a bustling metropolis known for its vibrant culture and thriving business community, remote work has taken root with remarkable enthusiasm. Professionals, entrepreneurs, and freelancers are seeking flexible work environments that cater to their unique needs. And this is where shared office space in Chennai come into play.
The Rise of Best Coworking in Chennai
Coworking spaces in Chennai have experienced a surge in popularity, and for excellent reasons. These shared private office environments offer a myriad of benefits that align perfectly with the needs of today's workforce.
Flexibility & Convenience
One of the most significant advantages of coworking spaces is the flexibility they offer. Whether you're a freelancer, startup founder, or corporate employee, you can choose the working space, amenities, and even the working hours that suit you best.
Networking & Collaboration
Remote work can sometimes feel isolated, but coworking space Chennai provides a solution. By working alongside other professionals, you have the opportunity to network, share ideas, and collaborate on projects. It is a dynamic ecosystem that fosters creativity and innovation.
State-of-the-Art Facilities
A major draw of co-working space is access to facilities that might be out of reach for individual remote workers. High-speed internet, modern meeting rooms, ergonomic furniture, and fully equipped kitchens are just a few of the amenities you can expect.
Your Ideal Workspace in Chennai with RDS Business Services
Now, let's delve into why finding the right workspace in Chennai is essential for remote professionals, and why RDS Business Services is the answer to your needs. 
Prime Location
Our coworking space in Chennai, strategically located in the heart of the city, provides easy access to key business hubs and transportation. Say goodbye to long commutes; we bring work closer to you.
Flexible Membership Plans
We understand that not everyone works the same way, which is why we offer a range of membership plans. Whether you need a workspace for a day, a week, a month, or longer, we have options to suit your needs.
Professional and Welcoming Environment
A well-designed and welcoming workspace in Chennai can significantly impact your productivity and creativity. At RDS Business Services, we take pride in creating an environment that fosters both. 
Tech-Savvy Amenities
We understand the importance of staying connected and efficient in your work. That's why we provide the latest technological amenities, ensuring that you have everything you need to excel in your work. High-speed internet, state-of-the-art meeting rooms, and secure access are just a few examples of what you can expect.
Community and Networking
At RDS Business Services, we don't just provide you with a desk; we introduce you to a community of like-minded professionals. Networking events and workshops give you the opportunity to connect, collaborate, and grow. 
Safety and Hygiene
In these challenging times, your safety is our utmost priority. We've implemented stringent safety and hygiene protocols to ensure that you can work in a clean and secure environment.
Conclusion: Elevate Your Remote Work Experience
In a world where remote work is the new normal, the right workspace can make all the difference. best coworking spaces in Chennai have emerged as the answer to the evolving needs of professionals, providing flexibility, networking opportunities, and state-of-the-art facilities.
So why settle for an ordinary workspace when you can experience the extraordinary at RDS Business Services? Join us today and elevate your remote work experience in cowork Chennai to new heights. Discover the possibilities, network with fellow professionals, and unlock your true potential. 
Come and experience the future of work with us, the coworking space that understands your needs in the vibrant city of Chennai. Your journey to a more productive and fulfilling remote work experience starts here.