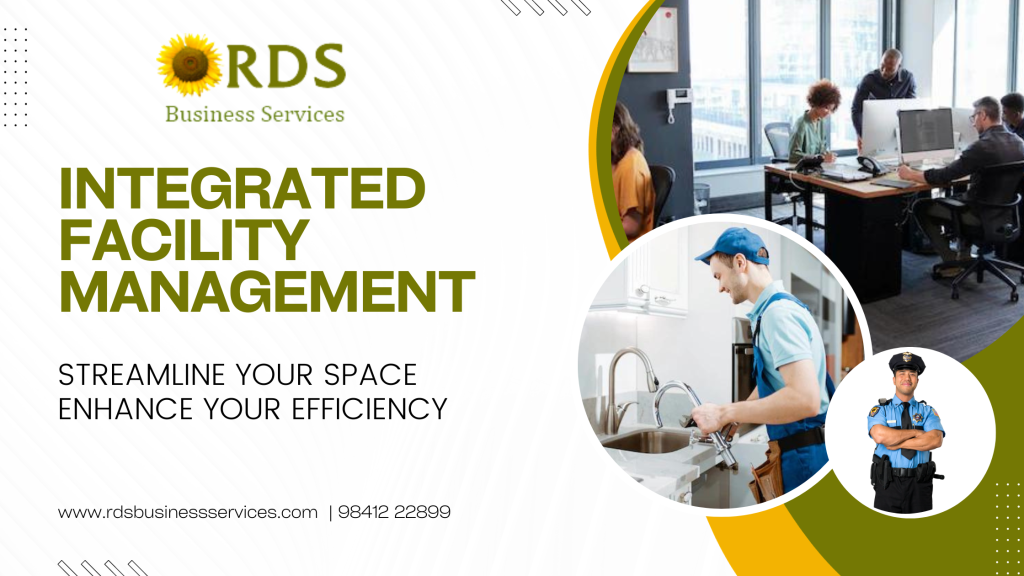 Table of Contents
FMS plays a crucial role in ensuring the smooth operation and maintenance of various facilities. It involves the management and coordination of multiple services to create an optimal working environment. RDS Business Services is one of the leading providers of facility management services in Chennai. We offer a wide range of services to cater to the diverse needs of businesses.
What is facility management services?
Facility management services includes a broad range of activities and tasks geared towards maintaining and optimizing the functionality, comfort, and safety of a facility or building. These services include the management of both "hard" services, such as maintenance of critical systems like electrical, plumbing, and HVAC, and "soft" services, like cleaning, security, and housekeeping. The goal to create a conducive and efficient environment within a facility management companies while ensuring its proper upkeep, adherence to safety standards, and alignment with the organization's operational needs.
Types of Facility Management Services
Facility Management
This involves the comprehensive supervision and coordination of a diverse range of facility-related responsibilities. It encompasses overseeing and strategizing maintenance schedules, addressing repairs, and implementing improvements to ensure the facility operates at its best. Whether the focus is on resolving technical issues, upgrading infrastructure, or enhancing the overall facility environment, We meticulously manage these details to ensure smooth and uninterrupted operations.
Janitorial Services
We take pride in delivering top-notch janitorial services aimed at maintaining the cleanliness and upkeep of your facility. Our dedicated team of professionals ensures that every nook and cranny of your space is spotless and well-maintained. This service covers a wide range of tasks, including the cleaning of floors, windows, furniture, and all surfaces to keep your environment pristine. Additionally, we handle the proper disposal of garbage and facilitate recycling efforts, contributing to a clean and sustainable workspace. We are committed to creating an environment that is not only aesthetically pleasing but also conducive to the health and well-being of your staff and visitors.
Feminine hygiene services
We recognize the paramount importance of maintaining hygiene and cleanliness in restroom facilities within any facility. Our dedicated feminine hygiene services are designed to address these critical needs comprehensively. We not only ensure the regular maintenance and cleaning of restrooms but also provide essential hygiene products to maintain a sanitary and comfortable restroom environment. Our commitment to privacy, discretion, and sustainability ensures that our feminine hygiene services go beyond basic cleanliness, promoting the well-being and confidence of all restroom users. At RDS, we prioritize the health and comfort of your facility's visitors and staff, contributing to a positive overall experience.
Housekeeping services
Housekeeping services are undeniably vital for maintaining a clean and comfortable environment within any facility, and RDS Business Services excels in providing top-tier services that cater to various areas throughout your establishment. Our dedicated team is well-trained and experienced, delivering excellence in every aspect. We leave no corner untouched, effectively removing dust and dirt from surfaces, furniture, and fixtures through the use of microfiber cloths, dusters, and powerful vacuums. Our meticulous approach extends to wet mopping and disinfecting hard floors like tiles, wood, and marble, ensuring not just cleanliness but also hygiene. Furthermore, our staff is skilled in arranging furniture and fixtures neatly and in accordance with your preferences and standards.
What sets our housekeeping services apart is our commitment to sustainability. We utilize eco-friendly and biodegradable cleaning products, prioritizing the well-being of both the environment and facility occupants. By choosing RDS Business Services for your needs, you benefit from a multitude of advantages. These include a spotlessly clean and hygienic facility that enhances your business's image and reputation, a comfortable and inviting atmosphere that positively impacts the morale and productivity of your employees and customers, and a cost-effective and hassle-free facility management solution that not only saves you time but also valuable resources.
Engineering services
RDS Business Services takes a proactive approach to ensure the seamless operation and maintenance of your facility's infrastructure. Our engineering services cover a wide spectrum of critical areas, including:
Electrical Maintenance:
We provide meticulous electrical maintenance services, addressing everything from routine inspections to complex repairs and upgrades. Our goal is to ensure the reliability and safety of your electrical systems, minimizing downtime and disruptions.
Plumbing and Carpentry:
Our team of skilled professionals oversees the operation and maintenance of plumbing and carpentry systems. From addressing plumbing issues to maintaining carpentry fixtures, we prioritize the functionality and aesthetics of your facility.
HVAC Services:
Proper heating, ventilation, and air conditioning (HVAC) are essential for a comfortable and productive environment. RDS Business Services offers HVAC services, including routine maintenance, repairs, and system upgrades, to ensure optimal indoor conditions year-round.
Chiller Maintenance:
We specialize in chiller maintenance, a critical component in cooling systems. Our experts are equipped to handle the intricacies of chiller maintenance, contributing to energy efficiency and overall system performance.
Our engineering services are delivered by a team of dedicated professionals who are well-versed in industry best practices and safety protocols. RDS Business Services is committed to maintaining the integrity of your building's infrastructure, ensuring that it operates smoothly and efficiently. With our engineering services, you can trust that your facility is in capable hands, allowing you to focus on your core business activities with confidence.
Specialized cleaning services
We provide a diverse array of specialized cleaning services that are meticulously tailored to fulfill the distinct requirements of various facilities. These services surpass routine maintenance, encompassing essential tasks such as the deep cleaning of carpets, upholstery, and surfaces, alongside the efficient eradication of stubborn stains and persistent odors. Our committed team employs advanced methodologies and environmentally friendly cleaning agents to invigorate and revitalize your facility, ensuring it remains a clean, appealing, and hygienic space for both your employees and visitors. Whether the challenge is deep-seated dirt, allergens, or tenacious stains, RDS Business Services possesses the expertise to consistently deliver flawless outcomes that enhance the overall cleanliness and visual appeal of your environment.
Benefits of Facility Management Services
Improved operational efficiency
By outsourcing Facility management services chennai to RDS Business Services, businesses can streamline your operations and improve efficiency. This allows the organization to focus on its core activities without having to worry about the maintenance and upkeep of the facility.
Cost savings
We can help businesses save costs in the long run. Through effective maintenance and proactive repairs, potential issues can be identified and resolved before they escalate, minimizing the need for expensive repairs or replacements.
Enhanced safety and security
Ensuring the safety and security of a facility is paramount. RDS Business Services takes measures to maintain a secure environment by regularly inspecting and maintaining security systems, fire prevention equipment, and access control systems.
Increased employee productivity
A well-maintained and clean facility creates a conducive working environment, leading to increased employee productivity. By outsourcing facility management companies in chennai, businesses can provide a comfortable and pleasant workplace for your employees.
Summary of FMS and the benefits
We offer a wide range of integrated facility management services, including janitorial services, feminine hygiene services, engineering services, and specialized cleaning services. By outsourcing these services, businesses can benefit from improved operational efficiency, cost savings, enhanced safety and security, and increased employee productivity.
RDS Business Services is committed to delivering the best facility management solutions in Chennai. With our expertise in soft services, engineering services, and specialized services, we provide comprehensive solutions tailored to meet your specific requirements. By outsourcing your facility management needs to us, you can focus on your core business activities while we ensure the smooth and efficient operation of your facility.
Whether you need janitorial services, electrical maintenance, or chiller maintenance, RDS Business Services has got you covered. Contact us today to learn more about us and how we can enhance the functionality and aesthetics of your premises.