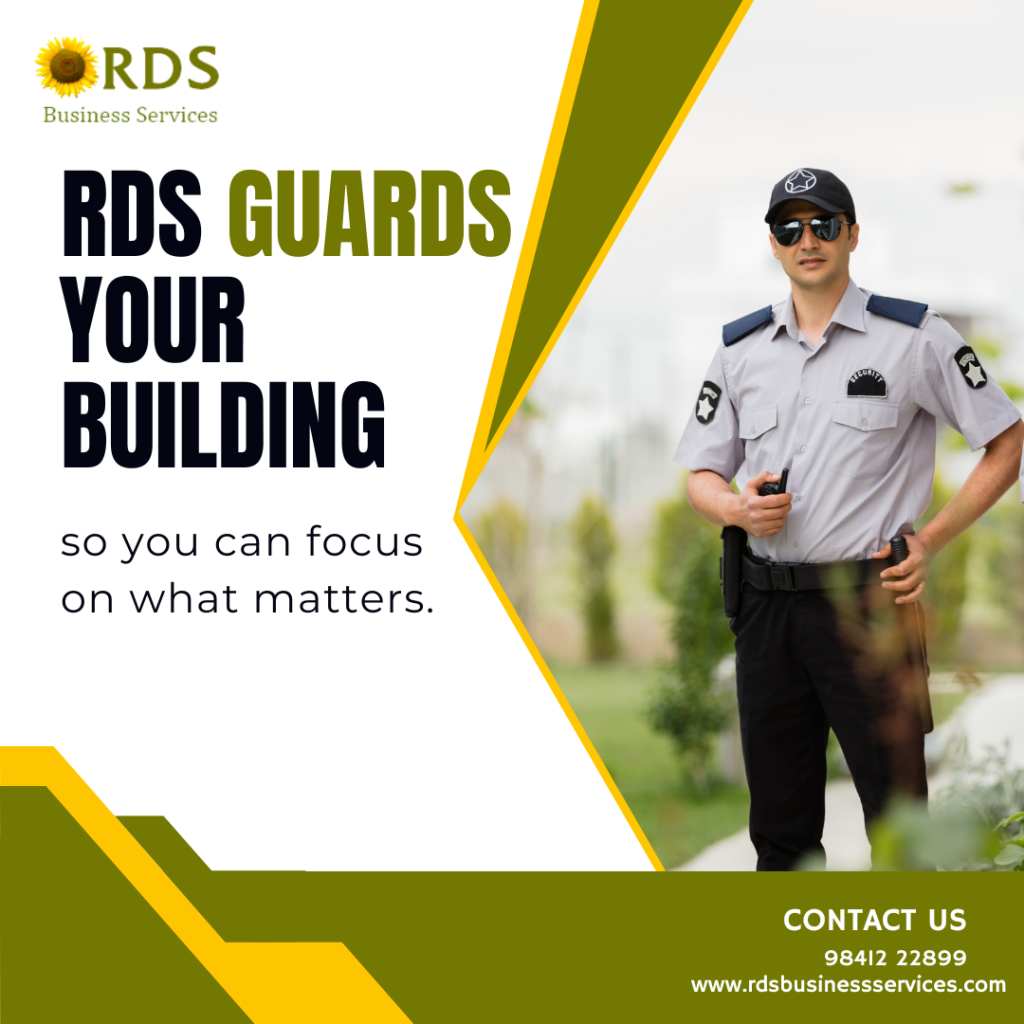 Table of Contents
When it comes to securing your business or property, the choice of a security guard agency is one of the most critical decisions you'll make. You need a team you can trust, one that's not just skilled but also dedicated to your safety and protection. At RDS Business Services, we understand the importance of finding the right security partner. In this blog, we'll explore the top qualities to look for in a reliable security guard agency to help you make an informed choice.
1. Experience Matters 
First and foremost, you want a guard security services with a wealth of experience. Best security services in Chennai are often those that have been in the business for a significant period. Experience brings with it a deep understanding of security threats and the best practices to mitigate them. It also means that the agency has likely faced and successfully dealt with a wide range of security challenges. 
2. Dedicated and Well-Trained Guards 
A best security guard service is only as good as its guards. Look for an agency that invests in the training and development of its security personnel. They should be well-trained in various aspects of security, from access control to emergency response. Additionally, uniformed security guards convey a sense of authority and professionalism, which can be a strong deterrent to potential private security threats.
3. Customized Security Solutions 
Every business and property is unique, with its own set of security needs. A reliable security guard company should be able to tailor their services to meet your specific requirements. Whether you need security for a corporate office, a retail store, or a special event, they should be able to provide security bouncers and guards with the appropriate skills and training.
4. Technology Integration
In today's digital age, event security goes beyond the physical presence of guards. Look for an agency that embraces technology to enhance their services. This can include the use of CCTV cameras, access control systems, and alarm monitoring. A modern security agency should be well-versed in the latest security technologies and how to integrate them effectively.
5.Strong Communication Skills
Effective communication is a cornerstone of good security companies. Guards need to be able to communicate clearly and efficiently, both within their team and with clients. They should be able to de-escalate situations through communication when possible, and know how to relay critical information in emergencies.
6.Proactive Approach to Security 
A reliable security guard agency doesn't just react to security incidents; they take a proactive approach to prevent them. Look for an agency that conducts thorough risk assessments, identifies potential vulnerabilities, and implements strategies to reduce security risks.
7.Excellent Reputation 
Reputation speaks volumes in the security industry. Do some research and check for reviews and testimonials from other clients. A security agency with a solid track record of delivering quality service and maintaining client satisfaction is more likely to be a reliable choice.
8. 24/7 Availability
Security threats don't adhere to a 9-to-5 schedule, and neither should your security agency. Ensure that the agency can provide round-the-clock security services company to protect your business or property at all times.
9. Adherence to Legal and Regulatory Standards 
The best security services in Chennai or anywhere else should operate within the bounds of the law. Make sure the agency complies with all relevant legal and regulatory standards. This includes proper licensing and insurance, which are essential for your protection. 
10. Transparent Pricing
Last but not least, a reliable best security guard company should be transparent about their pricing. They should provide clear and detailed quotes that outline the cost of their services. Be wary of agencies that give vague estimates or hidden fees. 
Trust RDS Business Services for Your Security Needs 
At RDS Business Services, we embody all these qualities that make a security guard agency reliable and effective. With years of experience, a dedicated team of well-trained uniformed security guards, and a commitment to customizing security solutions, we stand as one of the best security services in Chennai. 
We embrace technology to enhance our services, maintain strong communication within our team and with our clients, and take a proactive approach to security. Our excellent reputation is a testament to our commitment to delivering top-notch security services while adhering to all legal and regulatory standards.
When you choose RDS Business Services, you're choosing a security partner that will work tirelessly to protect what matters most to you. We're available 24/7 because your security is our priority.
Conclusion
In conclusion, the qualities mentioned above are the pillars of a reliable security guard agency. When you prioritize experience, training, customization, technology, communication, and reputation in your search, you'll find an agency that not only meets your expectations but exceeds them. Contact us at RDS Business Services for your security needs, and experience the peace of mind that comes with having a trustworthy security partner by your side.