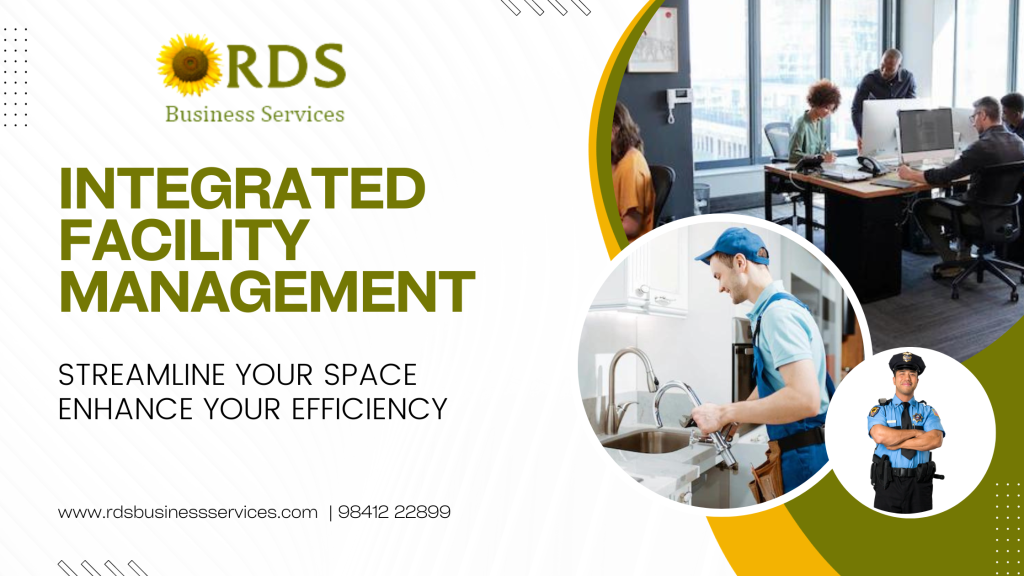 Table of Contents
When it comes to running a successful business, there are many facets to consider. From your products and services to your team and marketing strategies, everything plays a pivotal role in your company's overall success. But what often goes unnoticed, yet is absolutely essential, is the role played by the facility management services. A well-managed facility can make a significant difference in your business operations and ultimately, your bottom line. There are several facility company in Chennai challenging for your attention, but the key to success lies in choosing the right partner. Welcome to RDS Business Services, your trusted partner for all your facility management needs.
The Importance of Facility Management Services
Facility management is the heart and soul of your business operations. It encompasses a wide range of services, including maintenance, security, cleaning, and even space planning. While these services might not be in the spotlight, they are what keeps your workplace running seamlessly. A well-maintained and organized facility contributes to increased productivity, employee satisfaction, and overall business efficiency.
Choosing the right facility management partner is crucial, and it's not a decision to be taken lightly. When you're on the hunt for a facility management services Chennai, there are a few key factors to consider to ensure you make the best choice for your business.
Expertise and Experience
One of the foremost aspects to look for in a facility management partner is their expertise and experience. At RDS Business Services, we have been providing top-notch facility management services in Chennai for many years. Our seasoned professionals understand the unique challenges and requirements of businesses in the area.
With our years of experience, we have honed our skills and developed strategies that cater to the diverse needs of our clients. We've had the privilege of working with various industries, from manufacturing and healthcare to IT and hospitality, and we bring this diverse experience to the table to benefit your business.
Comprehensive Facility Management Services
Facility management is not a one-size-fits-all solution. Your business is unique, and your facility management needs will be, too. That's why we offer a wide range of services under the facility management umbrella. From facility maintenance services to security and compliance, we have you covered. You don't have to juggle multiple vendors; we are your one-stop solution for all your facility management needs in Chennai.
Our comprehensive services include:
Facility Maintenance Services: From routine maintenance to emergency repairs, we ensure your facility is in excellent condition. Our team of experts keeps a keen eye on your facility, ensuring everything runs smoothly.
Space Planning and Optimization:
We help you make the most of your workspace, improving efficiency and creating a comfortable environment for your employees.
Security Services:
Your business's security is non-negotiable. We provide top-of-the-line security solutions to safeguard your facility and assets.
Compliance and Safety:
Staying compliant with the ever-changing regulations is crucial. We help you navigate through the complex world of compliance and ensure that your facility adheres to all necessary guidelines.
Customized Solutions
We understand that no two businesses are the same, and that's why we don't offer one-size-fits-all solutions. At RDS Business Services, we take the time to understand your specific needs and tailor our services accordingly. Our team will work closely with you to create a facility management plan that aligns with your business goals and objectives.
Cutting-Edge Technology
In the fast-paced business world of Chennai, keeping up with the latest technology is essential. We embrace technology in our facility management services to provide you with real-time insights and data that help you make informed decisions. Our state-of-the-art systems and tools ensure that your facility is always up to date with the latest advancements in the industry.
Cost-Effective Solutions
We understand that managing costs is a priority for any business. Our goal is to provide cost-effective facility management services that don't compromise on quality. With RDS Business Services, you'll find that our solutions not only meet your needs but also fit your budget.
Customer-Centric Approach
Our clients are at the heart of everything we do. We value your trust and work tirelessly to exceed your expectations. Our customer-centric approach ensures that you receive the best service, from the moment you contact us to the ongoing support we provide.
Sustainability and Green Practices
In today's world, sustainability is not just a trend; it's a responsibility. We take our environmental responsibilities seriously and incorporate green practices into our facility management services. Our commitment to sustainability not only benefits the environment but also your business's reputation.
Seamless Transitions
Changing facility management providers can be a daunting task. At RDS Business Services, we ensure a smooth transition so that your business doesn't experience any hiccups. We understand the importance of continuity in your operations and work diligently to make the shift as seamless as possible.
Reliability and Trust
When you choose a facility company in Chennai, you are entrusting them with the smooth operation of your business. Trust and reliability are non-negotiable, and at RDS Business Services, we take pride in being a trusted partner for numerous businesses in Chennai. Our track record and long-standing client relationships speak volumes about the trust our clients place in us.
Join Hands with RDS Business Services
As you consider your options for a facility company in Chennai, remember that the right partner can elevate your business to new heights. Choose a partner who understands your unique needs, has the experience to back it up, and is committed to your success. Choose RDS Business Services, your trusted partner for facility management in Chennai.
Our team is excited to work with you and help you achieve your business goals. Contact us today to discuss how we can tailor our facility management services to meet your specific needs. With RDS Business Services by your side, your path to success becomes smoother, more efficient, and filled with endless possibilities. Let's embark on this journey together and take your business to the next level.